2021 CWC Workers' Capital Conference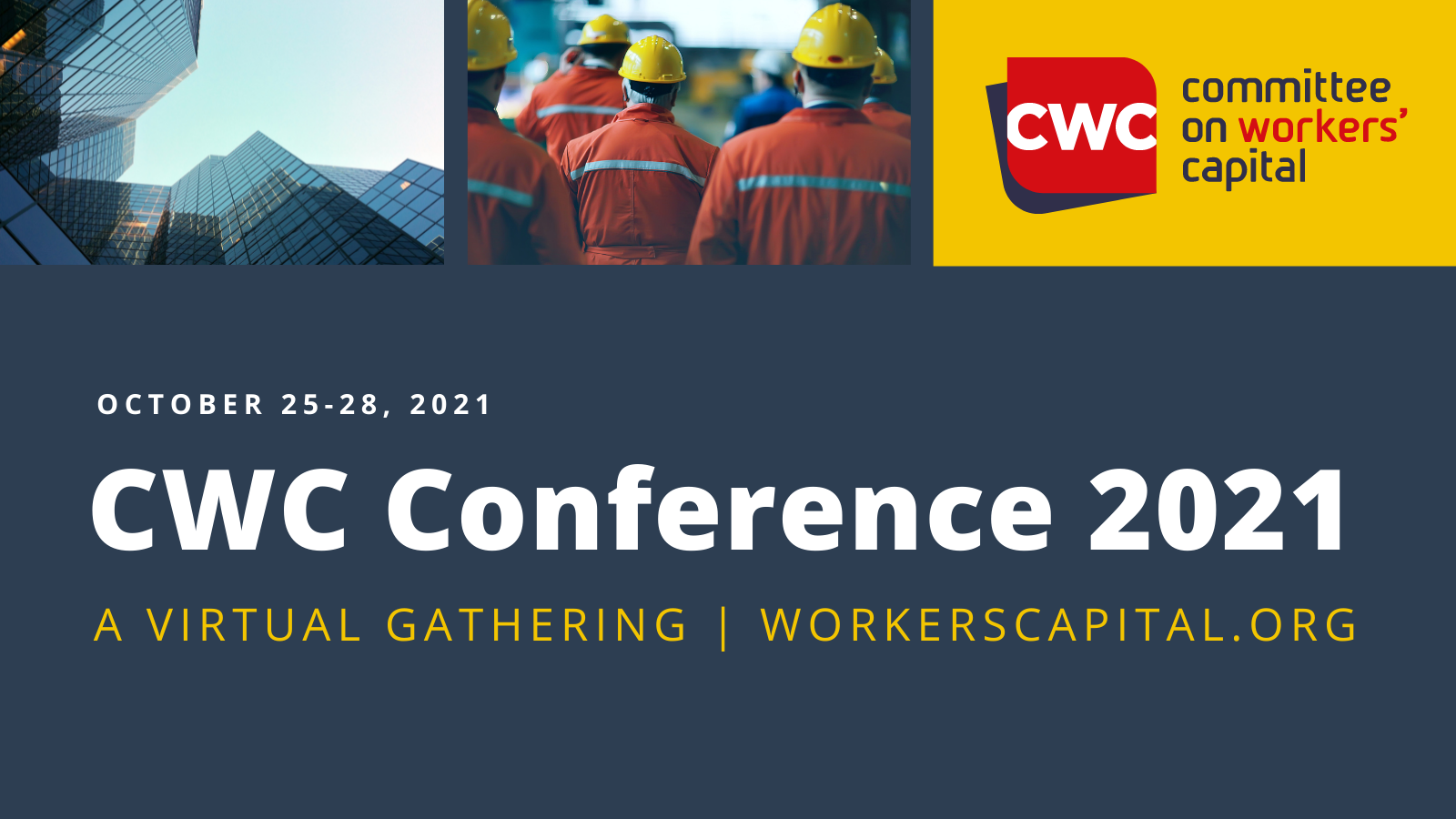 The CWC 2021 Workers' Capital Conference will be held virtually from October 25-29th, 2021. The annual conference provides a collaborative space for trade union representatives and labour-nominated trustees to discuss strategies and perspectives on elevating fundamental labour rights in the investment chain.
The conference will feature three formal sessions on key issues and topics related to the responsible investment of workers' capital. Each session will be followed by campaign spotlights where global trade unions will highlight an active shareholder advocacy campaign. The final day of the conference will feature an interactive brainstorming session where participants will be able to share and discuss CWC priorities for the upcoming year.
Important: Registration is exclusively open to participants who are affiliated to a trade union. If you are not affiliated to a trade union, please contact the CWC Secretariat to indicate your interest in attending the conference. Registrations from non-trade union participants will be reviewed on a case by case basis.
REGISTRATIONS
Click here to register for the conference
AGENDA:
The agenda is available here - check back regularly for updates.
The conference schedule is as follows:
Session 1: Asset manager accountability on labour rights: where is the leverage and what are the results for workers?
October 25th at 8:00–10:00 Pacific Time | 11:00–13:00 Eastern Standard Time | 17:00–19:00 Central European Time (anchor time) | Tuesday Oct 26 @ 2:00–4:00 Australian Eastern Daylight Time
Spotlight I: Teleperformance: what the contact centre giant shows about due diligence gaps on trade union rights and asset manager's approaches
Spotlight II: A new supply chain industrial relations model for the textile and garment industry
Session 2: Using policy tools to drive accountability around labour rights at companies and amongst investors
October 26th at 00:00–2:00 Pacific Time | 3:00–5:00 Eastern Standard Time | 9:00–11:00 Central European Time | 18:00–20:00 Australian Eastern Daylight Time (anchor time)
Spotlight III: Shareholder resolutions to require country-by-country reporting on tax transparency for key multinational enterprises
Spotlight IV: Holcim: Mobilising a global campaign to respect workers and union rights in the cement and building materials sector
Session 3: Where do labour rights fit in as private market funds ramp up their net-zero commitments?
October 26th at 14:00–16:00 Pacific Time | 17:00–19:00 Eastern Standard Time (anchor time) | 23:00–1:00 Central European Time | Wednesday Oct 27 @ 8:00–10:00 Australian Eastern Daylight Time
Spotlight IV: EssilorLuxottica: Investor action to protect workers' rights to form a union
Session 4: An interactive brainstorming session on CWC 2022 priorities
Session 4a for a North America/ European audience on October 28th at 8:00–9:30 Pacific Time | 11:00–12:30 Eastern Standard Time | 17:00-18:30 Central European Time | Friday Oct 29 @ 2:00–3:30 Australian Eastern Daylight Time
Session 4b for a North American/ Australian audience on October 28th at 15:00–16:30 Pacific Time | 18:00–19:30 Eastern Standard Time | Friday Oct 29 @ 9:00–10:30 Australian Eastern Daylight Time (anchor time)